×
Redding Beer Week
One of the best local events around, Redding Beer Week provides plenty of opportunities for NorCal residents to try regional beers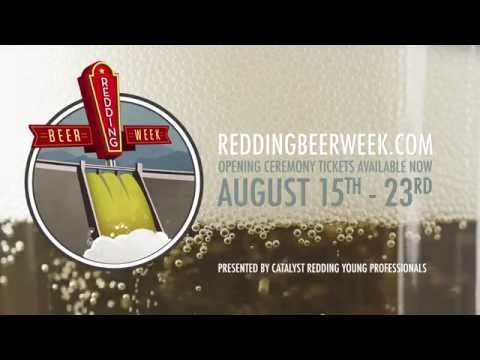 The 3rd annual Redding Beer Week takes over the city's taps August 15-24th! All your favorite craft breweries from around the region will be on hand to keep you hoppy. The opening ceremonies should not be missed: all the breweries in one room, where you can sample as much craft beer as you can handle. Then, a week of events all over Redding: tap takeovers, menu specials, games, and good times at Redding's best bars, restaurants, and retailers. If you like craft beer even just a little bit, plan to be in Redding this "Alegust"! 
TICKETS: Regular - $35 At the door - $40 Corporate bundle of 8 tickets - $250
Monday August 18th: Places - Tops Sunset Marketplace, Cicada Cantina, Fall River Taphouse, Shasta Lanes.
Tops Sunset Market Place: between 3pm and 7pm get your pallet ready to be annihilated by hops! Try some of the best Double IPAs on the plane that also happen to be local.
Cicada Cantina: between 5pm and 7pm Mexican food and CAN-tina beer! A casual night of kicking back, eating and popping open some cold ones.
Fall River Taphouse: between 6pm and 8pm showcasing Fall River Valley products - tri-tip and chicken dinner with a strawberry shortcake dessert. Come experience a taste of the valley.
Shasta Lanes:  From 7pm-10pm. Bowling and beer go hand in hand! Try your luck on the lanes.
Wednesday August 20th: Places - Bleachers, Carnegie's, All Star Sports Bar, Vintage Wine Bar & Restaurant, Moonstone Bistro
Bleachers: From 11am-Close Bleachers will be featuring 5 Lost Coast Wheat Beers: Great White, Tangerine Wheat, Watermelon Wheat, Apricot Wheat and a surprise!
Carnegie's: 5pm-9pm Do you love underdog and self made stories? These breweries began in your backyard. Come to Carnegie's to enjoy beers from Fall River, Etna, Mt Shasta, Wildcard
All Star: From 5pm-10pm Join in on CORNHOLE! Step up to the board and test your athletic prowess.
Vintage: From 5pm-close enjoy special 22oz bottles from participating breweries. Taste these sultry suds while listening to the sound provided by some amazing musicians.
Moonstone: Starting at 6pm, a deliciously decadent pairing of Wildcard favorites and Che's culunary creations. Doors open at 5pm, starts promptly at 6pm.
Thursday August 21st: Places - Ale House, Maxwell's, Vintage Wine Bar & Restaurant, View 202, Rusty Nail, Brick's Smokehouse, Capone's
Ale House: From 3pm-Close enjoy a takeover featuring the highly rated beers of Lagunitas Brewing Co. From the year round staples to the one-off specialties.
Maxwell's: From 5pm-Close. Who will it be? Bracketed taste competition for the favorite in the 3rd Annual Battle of the IPAs.
Vintage: From 5pm-Close enjoy Special 22oz bottles from participating breweries. Enjoy these sultry suds while listening to the sound provided by some amazing musicians.
View 202: From 5pm-10pm Sean Gaffner, Mad River and Fall River Brewing Cos will Bring you an epic 5 course pairing menu. $59, one seating @ 6pm.
Rusty Nail: From 6pm-Close Enjoy a crafty collaboration between craft beer and spirits
Bricks Smokehouse: rom 7pm-Close Bricks will be hosting a "Lost Cost Beach Party" with Lost Coast Brews & a patio beach party BBQ. Live music, best beach outfit contest, & the best BBQ in Redding.
Capone's: From 8pm-Close Giggle the night away as Speakeasy takes over the taps at Capone's. 10 beers, laughs for all.
Friday August 22nd: Places - Ale House, Vintage Wine Bar & Restaurant, C.R. Gibbs, Maxwell's, Capone's
Ale House: From 3pm-Close An educational introduction to cask, or 'real ale', featuring offerings from multiple breweries. See why this is.
Vintage: From 4pm-Close A rumpus Lagunitas tap takeover with live blues music and the manliest of beards. Grow that beard out for a chance to win!
C.R. Gibbs: From 5pm-9pm Head on over to CR Gibbs for Pints on the Patio for beer pairings, food and music. Fall River brews paired with delightful beer inspired dishes.
Maxwell's: From 5pm-Close Maxwells will have 20 taps of Sierra Nevada making this the largest ever tap takeover in Redding beer week history!
Capone's: From 8pm-Close Experience the roaring 20s with Speakeasy. Costumes aren't required, but who doesn't look dapper in gangster and flapper attire?
August 15th || Event Starts: 6pm || Tickets: $35 Regular, $40 at the Door, $250 Corporate Bundle of Eight ||Redding Beer Week Opening Ceremony is Friday, August 15th, from 6-10pm. Join us for a night of beer tasting, music, great food, and merriment. Bring a friend or three and enjoy more than 30 Northern California craft breweries and over 100 craft beers. Take advantage of brews from familiar mainstays while sampling unique flavors from up and coming breweries. This event is for adults 21 years and older. Purchase your tickets today as this event will be sold out. Parking is available at the Redding Civic Auditorium or take advantage of responsible discounted accommodations for taxi services and lodging available for reservation at reddingbeerweek.com.
Info
Art & Exhibitions, Concerts & Live Music, Food & Drink, Leisure & Recreation